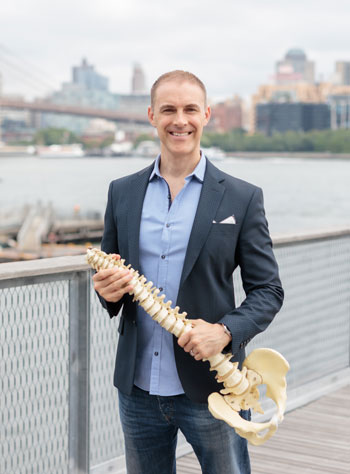 Meet Dr. Emil Tocci
The Importance of Finding the Cause
During Dr. Tocci's undergraduate years at SUNY Cortland, his biology and chemistry studies were interrupted by a back injury. An ambulance transported him to the hospital, where he received injections and thought he would be fine.
A friend who was studying to become a holistic doctor asked Dr. Tocci some probing questions about his injury. "He wanted to know what was causing the problem, and what the tests showed about my injury. I realized if I didn't understand the cause, I wouldn't get better." He visited the friend after graduating college and fell in love with chiropractic school.
A Natural Health Education
When he began attending the University of Bridgeport College of Chiropractic, Dr. Tocci received the thorough evaluation he'd needed and got help not only with his pain and posture but noticed he was sleeping better, had improved immunity and enjoyed greater energy and focus. "Chiropractic turned my health around."
Even after earning a Doctor of Chiropractic, Dr. Tocci's past back problems didn't disappear completely.
It was only after he discovered structural curve correction that Dr. Tocci's health was taken to the next level, influencing his style of practice. He started using the most-researched chiropractic techniques, Chiropractic Biophysics® and Pettibon, to reposition the spine. "I know what it's like to lose your health. It's your most important asset." At Tocci Family Chiropractic & Holistic Lifestyle Center, he seeks to empower and inspire patients with the information they need to enhance their health over their lifetimes.
An Active Lifestyle
Dr. Emil grew up in Island Park, New York. He's been under chiropractic care since 1997. In his spare time, he exercises, reads and travels all over the world with his wife Amanda. Together, they've created a podcast series Ask Dr. Emil and Amanda to help people get more out of life.
Contact us today to schedule your appointment! We have late opening hours for your convenience.
---
Oceanside Chiropractor Dr. Emil Tocci | Tocci Family Chiropractic & Holistic Lifestyle Center